AIRBAGS
AIRPIT INGROUND AIRBAG
The Smartest Alternative To Foam
Getting sick and tired of foam? Upgrade to the safest technology of the future and never worry about cleaning your foam pit again. From customer throughput to durability, staff and time savings, your BAGJUMP Inground AirPit will start paying for itself right away!
PRODUCT KEY FEATURE #1
The Smart Alternative To Foam Pits
No more inhalation of toxic dust particles from your foam pit
Significantly cut down maintenance & cleaning time
Easier and quicker exit means a higher jump frequency
Years more durable than foam cubes
Statistically proven to be safer than foam pits
The BAGJUMP AirPit Inground is the hygienic, easy-to-clean solution that reduces operating costs and time-consuming maintenance. Our airbag allows for a much easier and quicker exit, which translates into a higher frequency of jumps, while the superior durability of the material ensures long-term savings – making the BAGJUMP AirPit Inground a safer and financially rewarding choice compared to foam alternatives.
The flame-retardant substances used in foam cubes are toxic to ingest as dust particles can pose serious health risks to children and those with allergies or respiratory issues. Say goodbye to fluffing cubes, sweeping dust and finding detritus as you clean out!
PRODUCT KEY FEATURE #2
Patented Fully Replaceable Air Pillars
BAGJUMP provides the only system with easily replaceable air pillars
Significantly increases lifespan of your product
Instant repairs means no revenue loss through down time
Other suppliers airbags need to be cut open and heat-welded, which is a professional job. Our system simplifies this procedure using our ultra strong velcro attachments.
Our patented BAGJUMP Air Pillars allow you to easily replace an air pillar via velcro if damaged or worn, which ensures you always stay in operation, and it increases the lifespan of your product significantly. It is so easy any of your staff can do it.
Lower quality airbags will leave you with only two options in case of damage: Have a professional do an expensive repair by cutting and welding, or buy a complete new airbag. With our patented replaceable air pillar system you can easily exchange air pillars via velcro.
PRODUCT KEY FEATURE #3
Premium Materials by Heytex Germany
Specifically engineered for long-term reliability, high performance and quality
Enhanced product safety, especially compared to Chinese alternatives
Certified quality and technology by a global leader with over 100 years of experience
Experience unrivalled reliability and unmatched quality with our custom made materials by Heytex Germany – engineered to provide the softest and safest landings even in the most intense settings.
With enhanced product safety and certification from a global leader with over 100 years of experience, our BAGJUMP products offer superior quality compared to Chinese alternatives, giving businesses peace of mind and confidence in their investment.
AIRPIT INGROUND AIRBAG AIRPIT INGROUND AIRBAG AIRPIT INGROUND AIRBAG AIRPIT INGROUND AIRBAG AIRPIT INGROUND AIRBAG AIRPIT INGROUND AIRBAG AIRPIT INGROUND AIRBAG AIRPIT INGROUND AIRBAG AIRPIT INGROUND AIRBAG AIRPIT INGROUND AIRBAG AIRPIT INGROUND AIRBAG
AIRPIT INGROUND
YOUR BENEFITS
The BAGJUMP Airpit Inground system has made the unhygienic, time-consuming foam pit a thing of the past. No more dust, sweaty cubes or searching for lost devices! Easy to inflate and clean, safest to use and quickest to exit.
LESS MAINTENANCE
Convenient and cost-effective as minimal maintenance and no deep-cleaning required.
THE HYGIENIC SOLUTION
Foam pits are hard to clean; sweat, blood, and urine are tough to remove. Our airbags are easily cleaned for health and appearance.
NO TOXIC DUST
Foam cube flame retardants are toxic when ingested as dust, posing health risks. Our materials are REACH compliant.
SAFER THAN FOAM
Airbags cause fewer severe and light injuries than foam pits due to better impact absorption and reduced false sense of security.
MORE JUMPS THAN FOAM
Our airbags enable faster and easier exits, accommodating 3-5 times more jumps per hour than foam pits.
NO FIRE HAZARD
Foam pits need costly sprinklers and can burn down facilities in fires. Our materials meet top fire retardancy standards for peace of mind.
DITCH THE DUST AND BOOST YOUR ROI!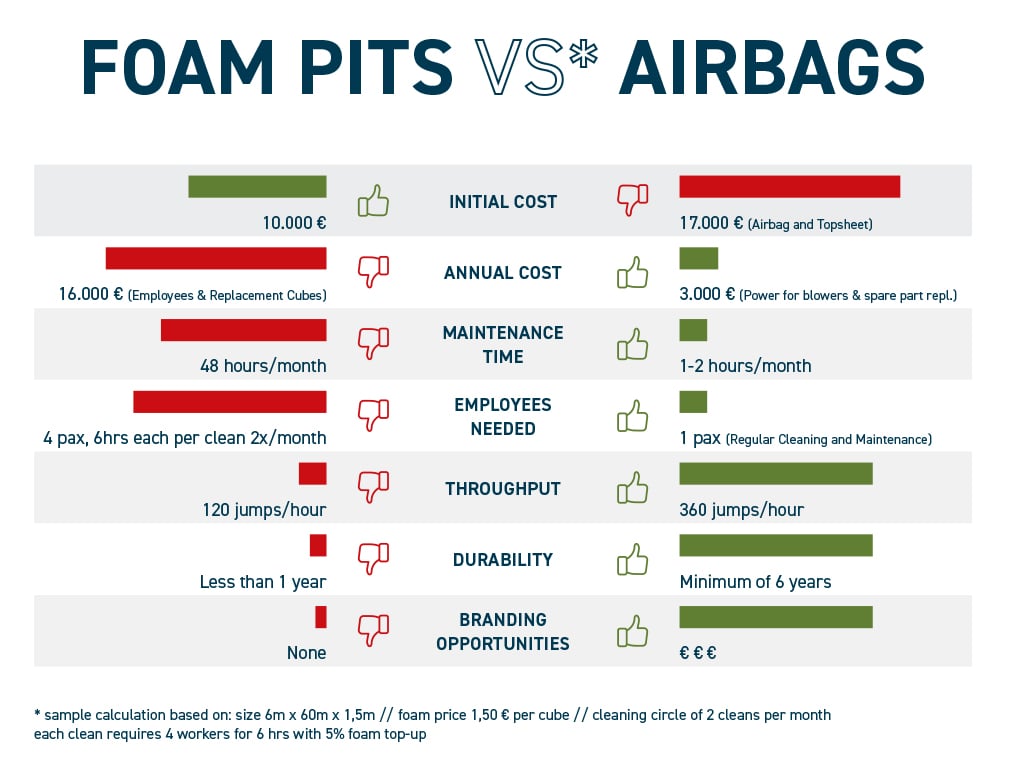 DITCH THE DUST AND BOOST YOUR ROI!
More durable than foam – airbags last much longer than foam pits which puts money back in your pocket.
No need to have multiple employees cleaning and fluffing the pit for hours – saving you money again. Simply turn energy efficient blowers on in the morning and off at night.
Best in-class materials and patented replaceable air pillars mean that your BAGJUMP outlasts any foam pit or other inferior airbags.
Finance your airbag monthly and have immediate savings over your foam pit with no big upfront payment.
Amortize your investment in 1-2 years  – get in touch for more details and your personalized offer!
Contact Us
WATCH THE BAG IN ACTION
Watch the video and see how easy it is to replace an outdated foam pit with our high quality AirPit Inground Airbag system!
Visit our YouTube Channel
WHY BAGJUMP
BAGJUMP is the inventor, pioneer and worldwide market leader for impact attenuating airbags for sport and safety.
Learn more
Our production facility is ISO9001 quality managment certified. The BAGJUMP AirPit Inground product is internationally certified by the TUV Austria for quality and safety. We have been actively helping on the board of various committees such as ASTM, ATPA, BSI or the DIN EN ISO to  write the various industry standards for your safety.

There is no company worldwide, which has produced nearly as many impact attenuating airbags as we have. In the process of inventing various airbags systems we have gone through the mistakes and steep learning curve of product design, manufacturing techniques and material specification. Having gone through this development process and understanding every detail makes us and our products the best and most reliable on the market.
BAGJUMP's European component supply chain mean we have shorter production lead times and higher standards than competitors who outsource manufacturing to the farthest reaches of the world in order to maximize profits.
AIRPIT INGROUND AIRBAG
GET INSPIRED
Take a look at some of our favourite BAGJUMP AirPit Inground Airbag installs!
AIRPIT INGROUND AIRBAG
ADD-ON PRODUCTS
PRESSURE ALARM
Instant audio-visual signaller should the BAGJUMP Airbag ever lose pressure (power cut, puncture etc.).
Buy now
HD PRINTED SOFT-TOUCH TOPSHEET
Additional replacement topsheets for spares or branding purposes.
GLOW IN THE DARK TOPSHEET
Ultraviolet glow-in-the-dark Topsheets for spectacular sessions in darkness! Visually striking and an unforgettable branding opportunity.
SILENCER BOX
Padded housing for blower which acts as a very effective audio muffler.
FLOOR & EXIT PADDING
Floor padding for around the BAGJUMP Airbag and / or exit, 10cm thick.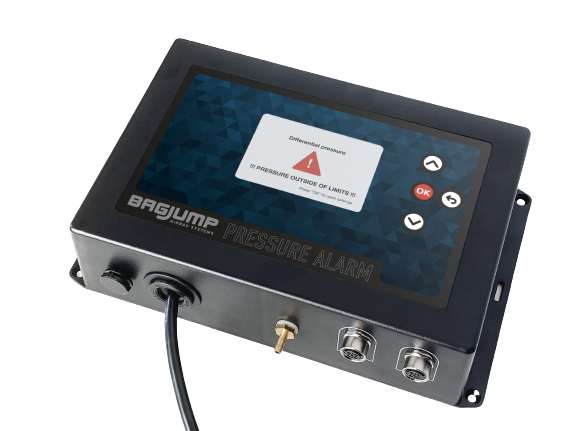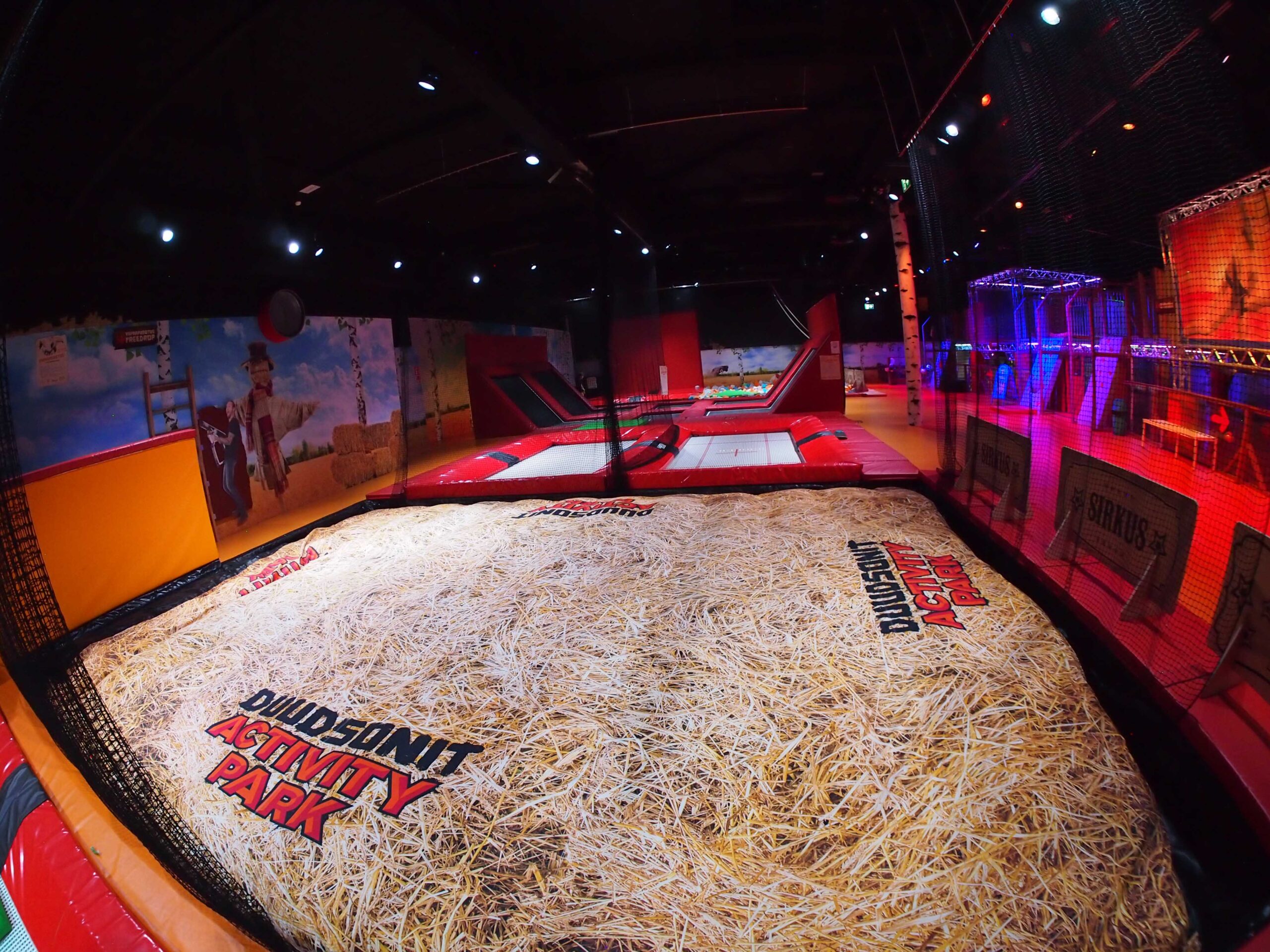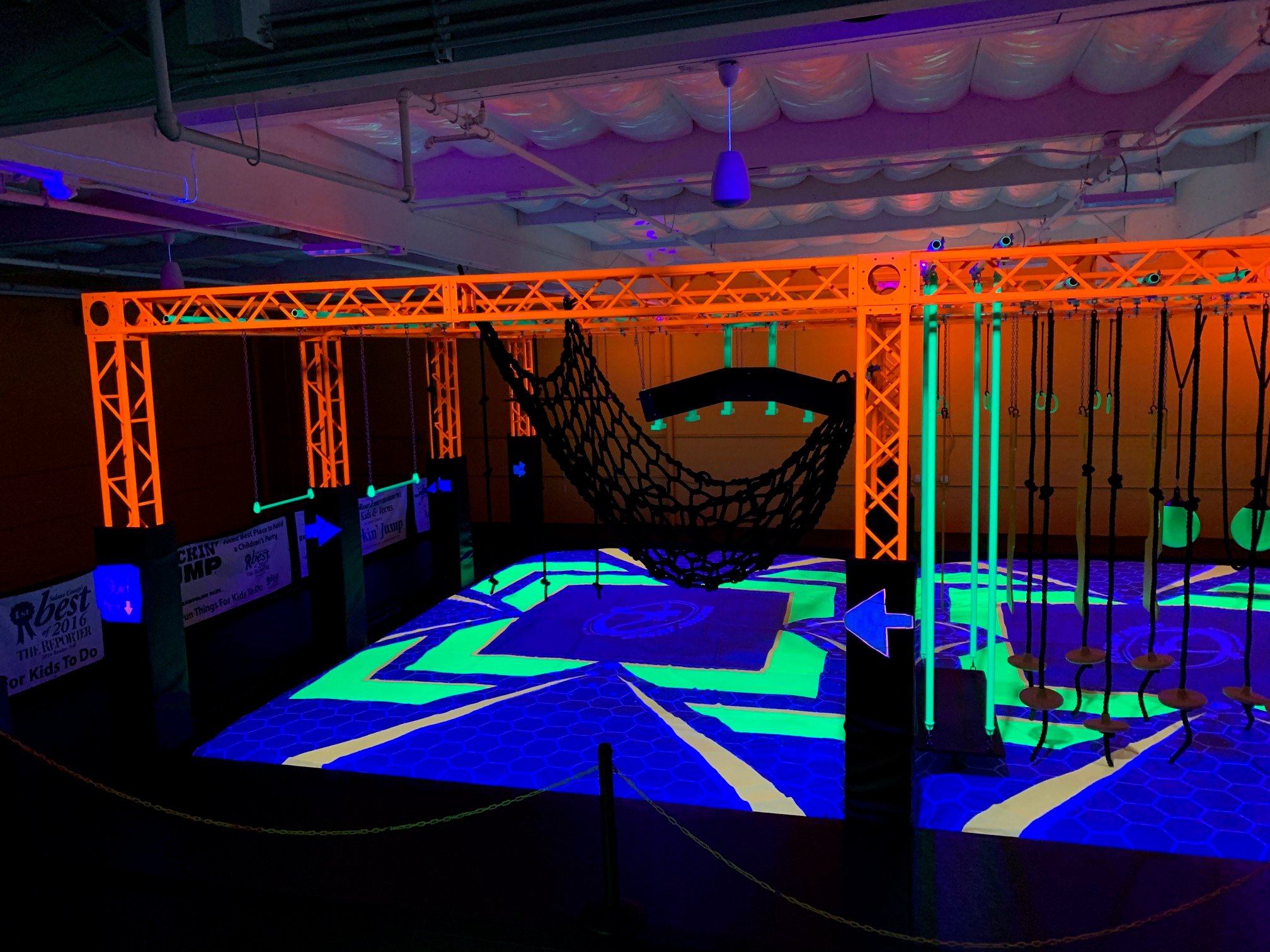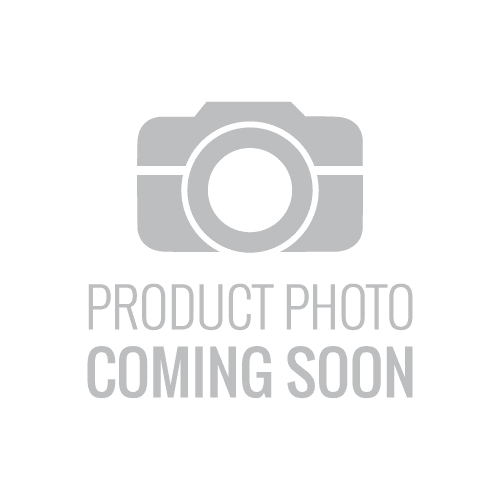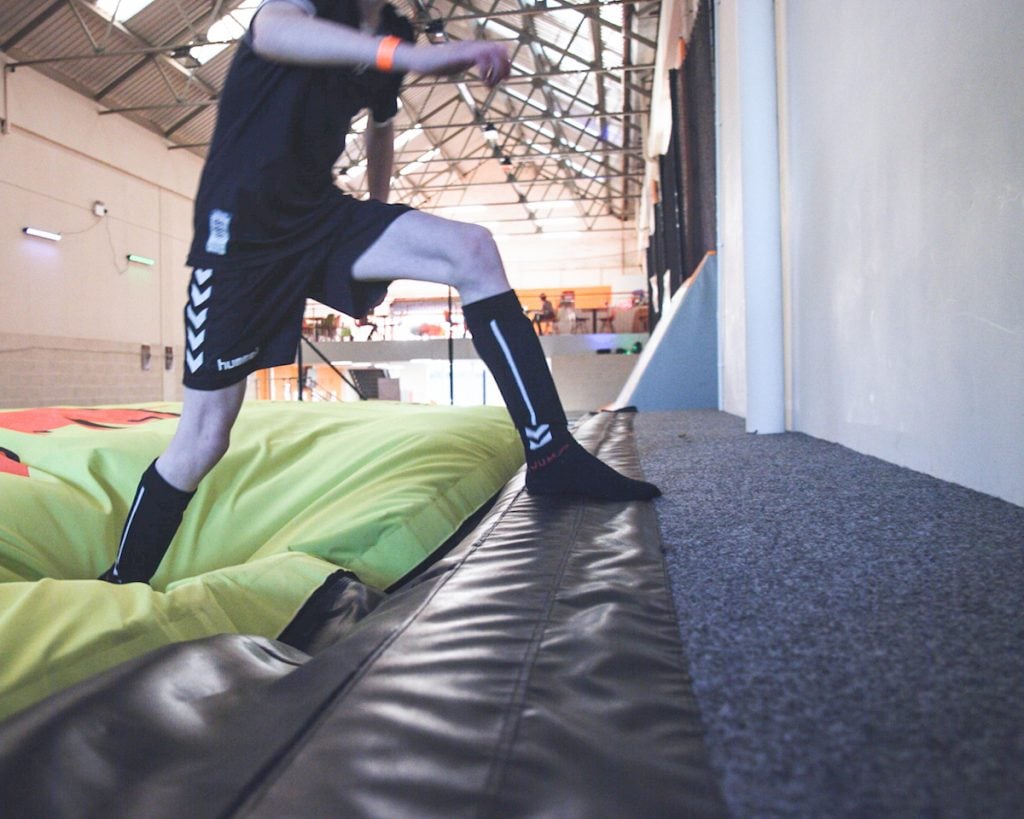 REFERENCES
TRUSTED BY THE BEST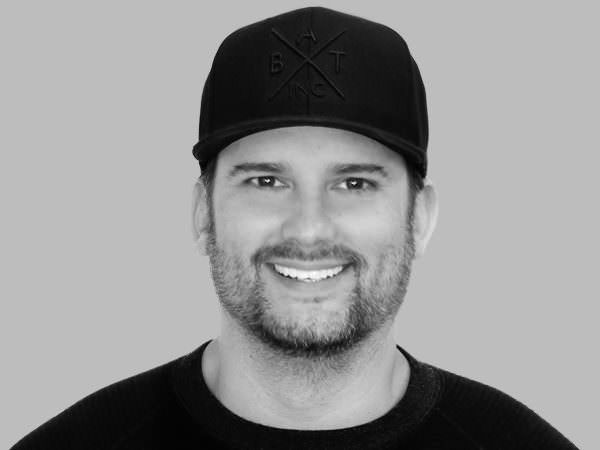 "What stands out with BAGJUMP the most is how durable their products are, especially thanks to their replaceable air pillar system! We can easily swap individual pillars in the rare case of damage."
Phillip Howell

CEO @ Best American Trampoline Parks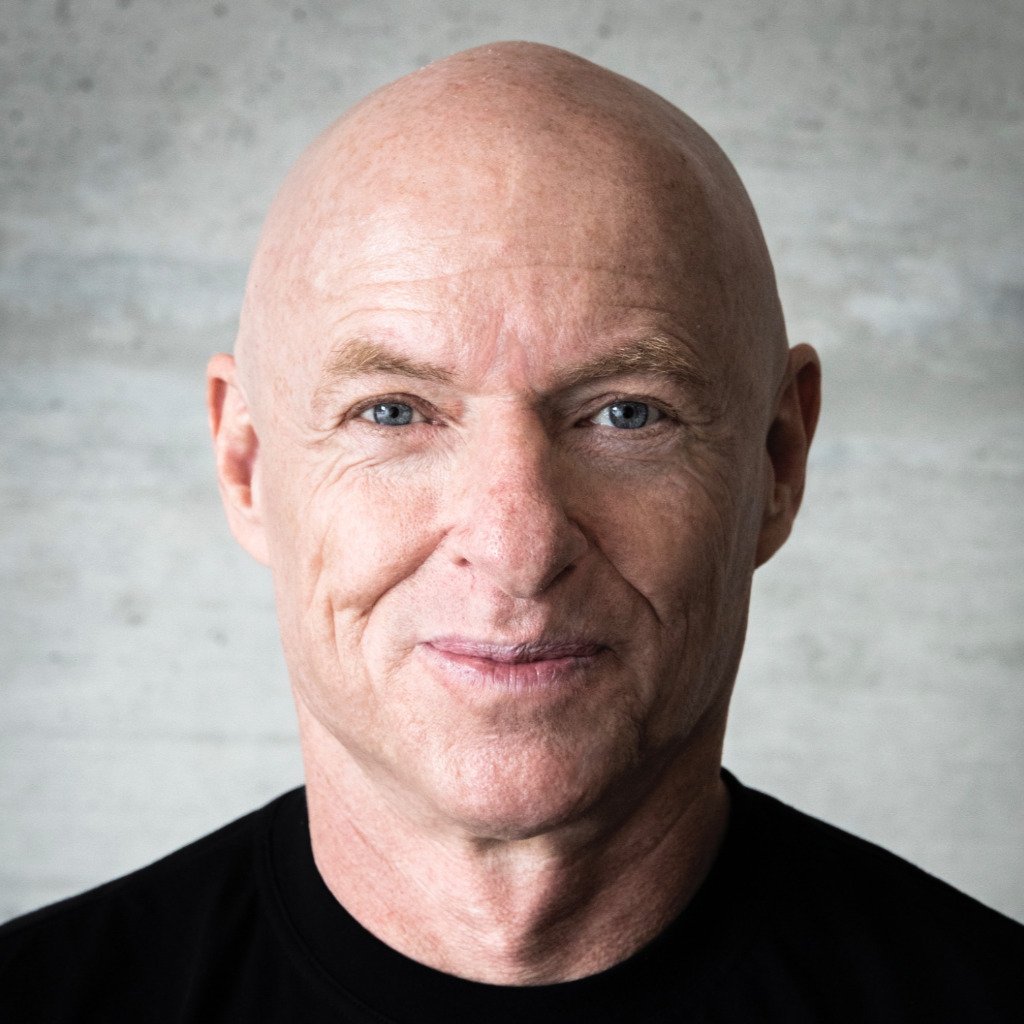 "We installed one BAGJUMP foam pit airbag to test it and have been convinced. Now we have no more foam pits in our parks as airbags are much cleaner and more hygienic. The throughput of jumpers is a lot higher. We only take 10-15 minutes of maintenance per month instead of the countless hours for multiple staff we had before."
José Fernandes

Manager @ Flip Lab Trampoline Parks Europe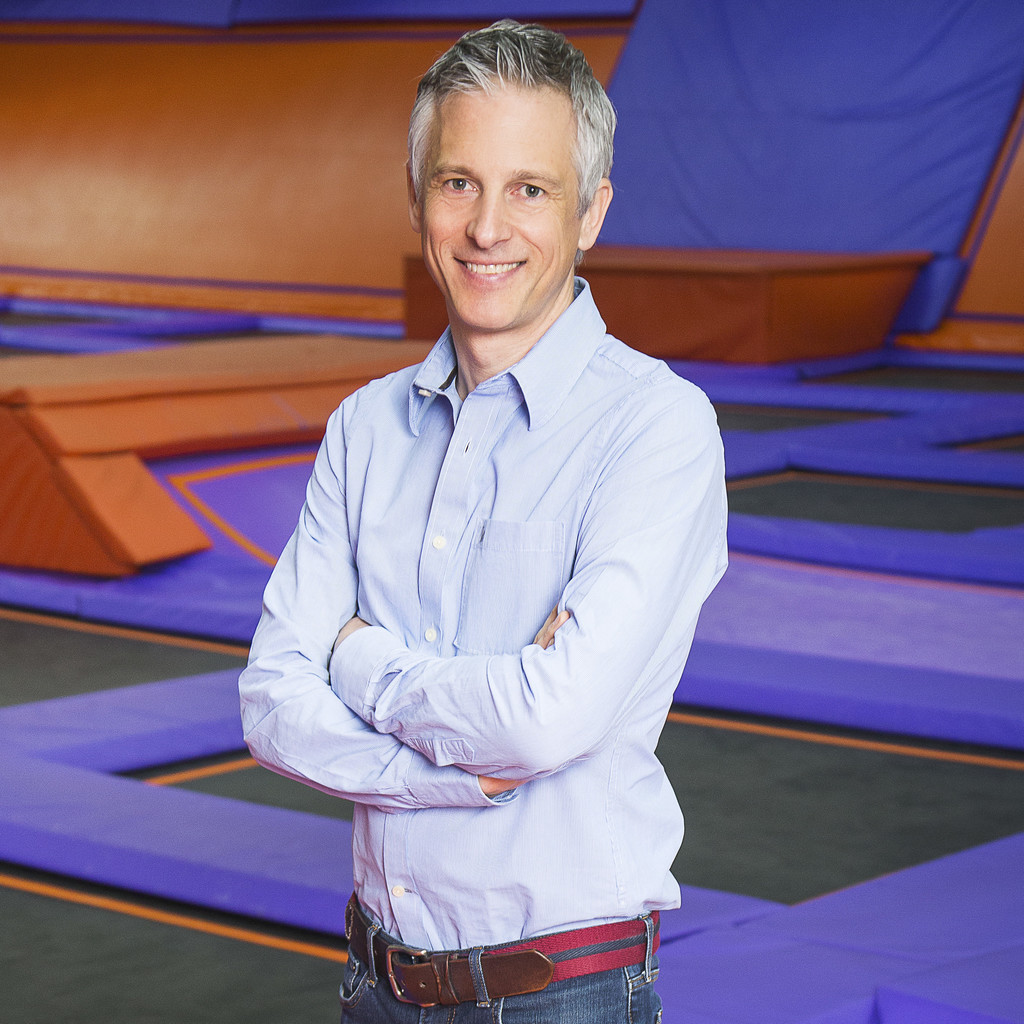 "The longevity of BAGJUMP products is outstanding. We have had multiple airbags now for over 5 years without any issues whatsoever. Thanks to BAGJUMP's replaceable air pillar system we could exchange more heavily used air pillars in the landing area easily during our monthly maintenance. And the printed top sheet still looks great!"
Till Walz
CEO and Owner @ Jump House Germany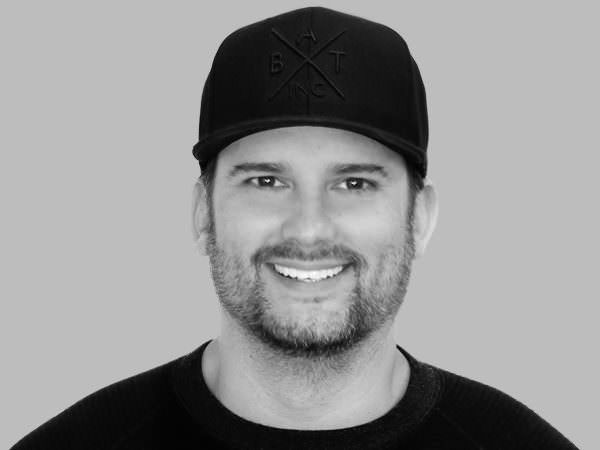 "What stands out with BAGJUMP the most is how durable their products are, especially thanks to their replaceable air pillar system! We can easily swap individual pillars in the rare case of damage."
Phillip Howell

CEO @ Best American Trampoline Parks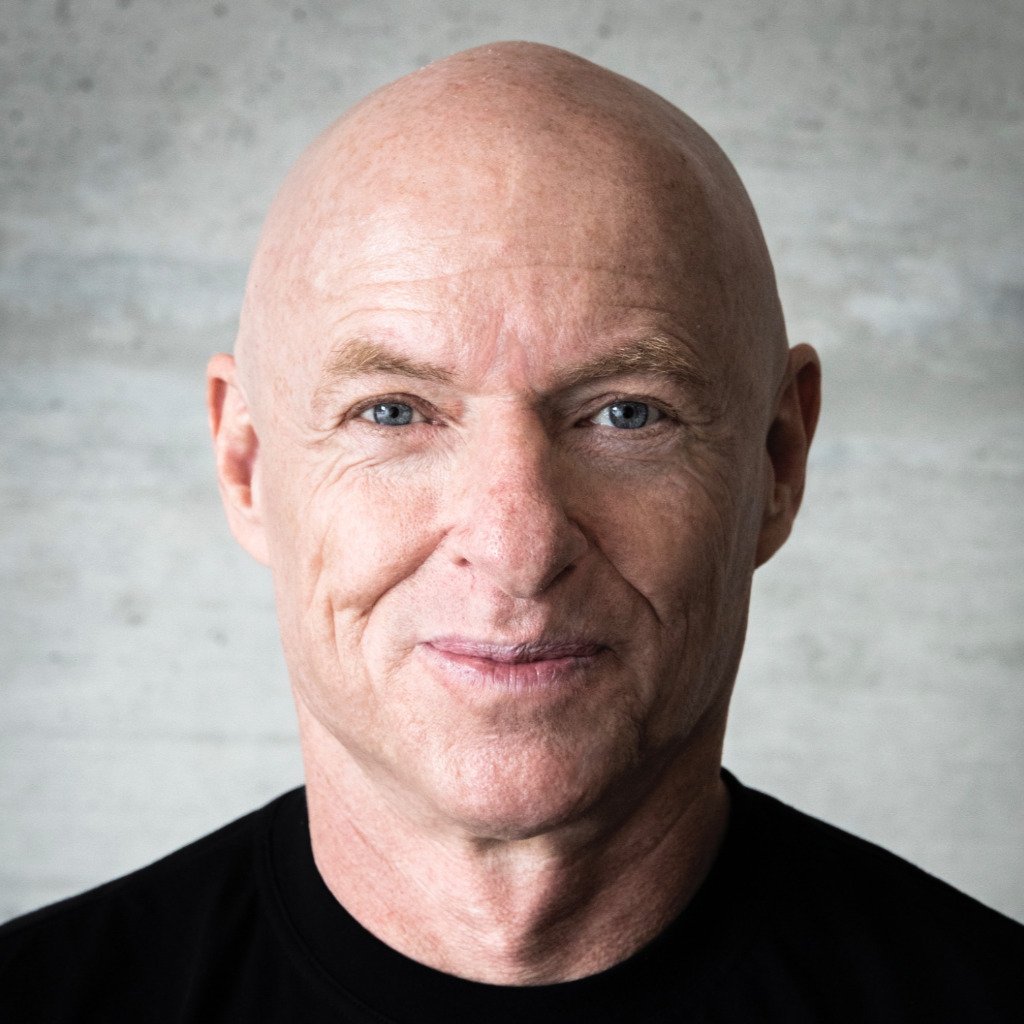 "We installed one BAGJUMP foam pit airbag to test it and have been convinced. Now we have no more foam pits in our parks as airbags are much cleaner and more hygienic. The throughput of jumpers is a lot higher. We only take 10-15 minutes of maintenance per month instead of the countless hours for multiple staff we had before."
José Fernandes

Manager @ Flip Lab Trampoline Parks Europe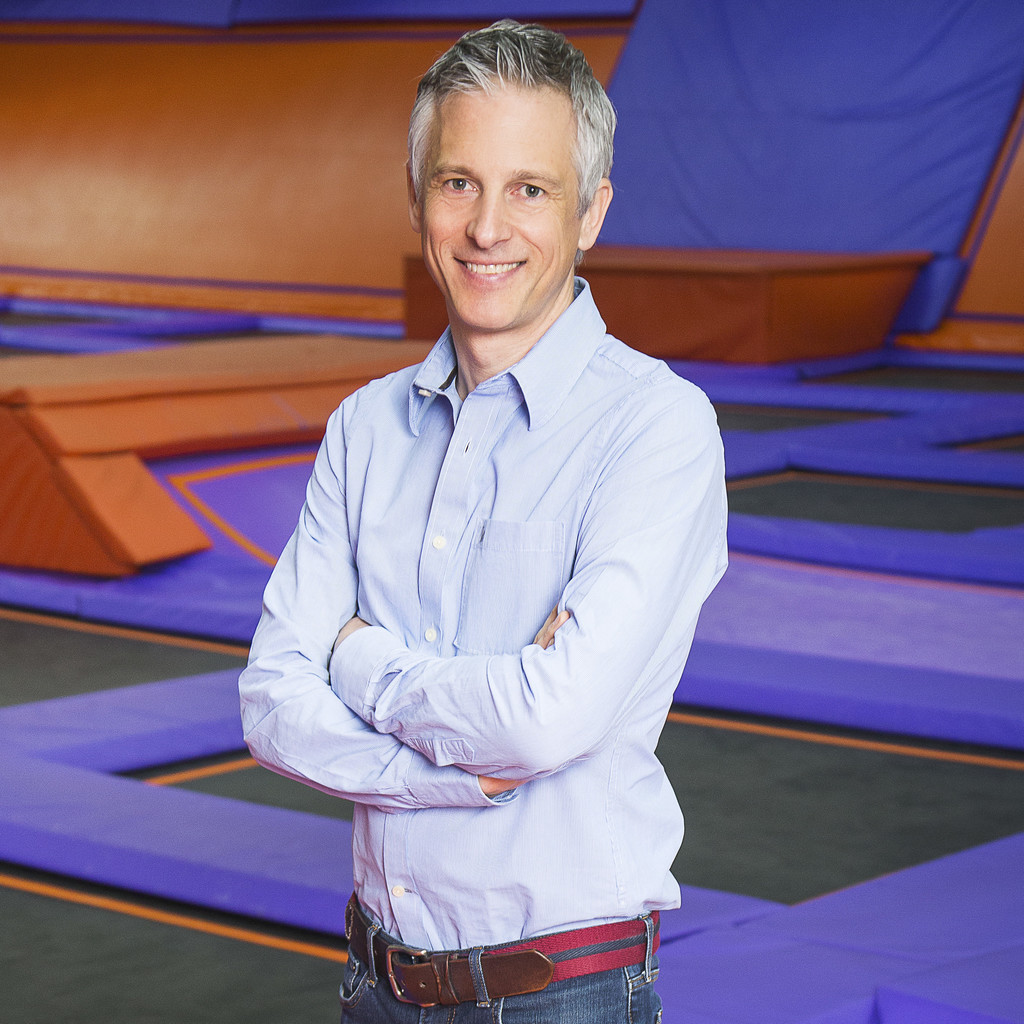 "The longevity of BAGJUMP products is outstanding. We have had multiple airbags now for over 5 years without any issues whatsoever. Thanks to BAGJUMP's replaceable air pillar system we could exchange more heavily used air pillars in the landing area easily during our monthly maintenance. And the printed top sheet still looks great!"
Till Walz
CEO and Owner @ Jump House Germany